A compliment to any room, the Reliable Controls® SMART-Sensor™ LCD (SSL) series delivers a communicating sensor solution that allows you to connect with up to ten configurable parameters related to your space.
---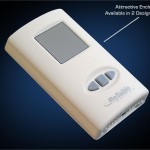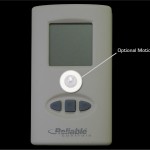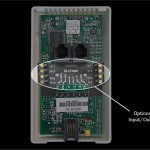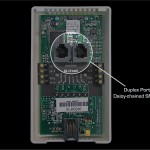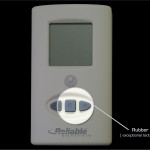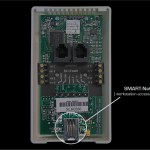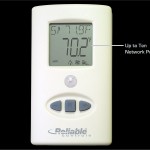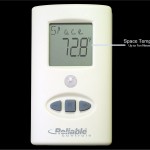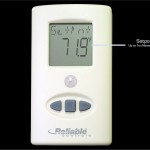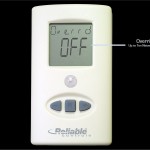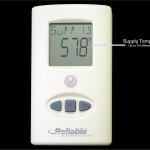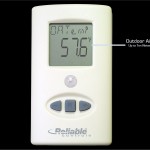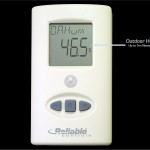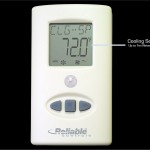 ---
Aesthetic Design
Smooth contoured lines
Slim profile
Easy Programming
10 programmable points (eg. input, output, or variables)
Up to 7 points can be displayed on the screen at once
Values can be programmed for adjustment by user, or for display only
Points 1 and 3 can be configured to display on the LCD screen simultaneously
Dedicated LCD icons for the display of: Auto, Manual, Cool, Heat, Fan, and Fan Speed
Large Liquid Crystal Display
Displays time, analog, or digital values
Optionally configured to blank the display after 10 seconds of idle time
Connection & Addressing
Configure network address of SMART-Sensor™ LCD using front buttons in programming mode
Valid addresses are 1–16
Easy 4 or 6 wire connection (six wire required for use with X-Port-2™)
Network Access
An RJ-11 connector on the bottom provides access to host network (X-Port-2™ required)
Built-in Configuration Tools
User enabled configuration tools allow an operator to conveniently view and adjust setup parameters of the SSL and host controller
Optional I/O
Up to 2 thermistor or dry contact inputs, and up to 2 digital TRIAC outputs
Optional Humidity
Accurate onboard humidity sensor
Optional Occupancy
Extremely compact sensor, ideal for detecting the motion of a person up to 5 m (16 ft.) away
Warranty
5 years
1 year on humidity sensor
Certification
FCC CFR 47 Part 15 Class B
Supply Voltage (from controller)
SSL – 5 VDC @ 5 mA
SSL-IO – 5 VDC @ 15 mA
Display
Four 0.6″ digits, Six 0.3″ characters
Six icons: Auto, Manual, Cool, Heat, Fan, and Fan Speed
Display area 36mm x 36mm (1 3/8″ x 1 3/8″)
Temperature Specifications
12-bit A/D converter
Range: 0 ºC to 40 ºC (32 ºF to 104 ºF)
±0.1ºC (0.18ºF) resolution
User calibrated to ±0.1ºC (0.18ºF) accuracy
Humidity Range (for -H models)
0.1% resolution
10-90% range
± 1.8% RH accuracy
Occupancy Sensor (for -OC models)
Passive Infrared Radiation (PIR) sensor
64 detection zones
100º horizontal range / 82º vertical range
5 m (16.4 ft.) max. detection distance
CO2 Sensor (for -CO2 models)
Non Dispersive Infrared Optical sensor
0-2000ppm range
Accuracy ±50 ppm ±3% of reading
Automatic calibration built in
Non Linearity < 1% of full scale
Power: adds 2 mA to the base SSL
Buttons
3 custom silicon rubber buttons
Button functions: select, plus, and minus
Inputs
Dedicated temperature sensor
2 thermistor or dry contact (on I/O models)
Outputs (for -I/O models)
2 digital TRIAC
24 VAC @ 0.5 A
SMART-Network
16 SMART-Sensors per MACH-ProCom/Sys/Web, MACH-Global™ and MACH2™
8 SMART-Sensors per MACH1™
4 SMART-Sensors per MACH-Zone™, MACH-Air™ and MACH-Stat/ND
Maximum of one SSL-ND per SMART-Net™
Dimensions
12 cm L x 7.0 cm W x 2.4 cm H (4 3/4″ L x 2 3/4″ W x 15/16″ H)
Weight
Ambient Limits
Operating: 0 ºC to 40 ºC (32 ºF to 104 ºF)
Shipping: -40 ºC to 60 ºC (-40 ºF to 140 ºF)
Humidity: 10% to 90% RH non-condensing

SMART-Sensor eXpansion
The SSX is used when mulitple SMART-Sensors (SSs) are to be connected to one controller's SMART-Net port.